N.J. National Guard member charged with Fort Dix sex assault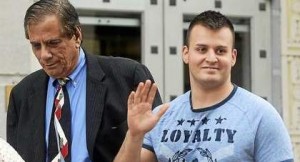 Loannis V. Karazoupis, right, leaves Federal Court in Trenton with his attorney Jerome Ballarotto Wednesday Oct. 1. 2014. (Trentonian photo/Jackie Schear)
By David Foster, The Trentonian
Wednesday, October 1, 2014
TRENTON -While a New Jersey Army National Guard member was at Joint Base McGuire-Dix-Lakehurst for training, it is alleged he committed a sexual assault.
Ioannis V. Karazoupis, 27, of Flemington, made his first appearance Wednesday in Trenton federal court to answer to charges of engaging in a sexual act with a person on May 4 who was "physically incapable of declining participation and communicating unwillingness" at the base, according to the U.S. Attorney's Office.
Sporting a T-shirt inscribed with the word "Loyalty" and wearing camouflage cargo shorts, Karazoupis was led into the courtroom shackled at the ankles before U.S. Magistrate Judge Lois H. Goodman.
Assistant U.S. Attorney Fabiana Pierre-Louis and Karazoupis' high-profile attorney Jerome Ballarotto, who represents former Hamilton Mayor John Bencivengo and former Trenton Mayor Tony Mack cohort Joseph "JoJo" Giorgianni, agreed to conditions to release the National Guard member on a $250,000 unsecured bond co-signed by the defendant's parents.
Under the conditions, Karazoupis is restricted to travel in the Garden State and he must surrender his passport.
Furthermore, he must abstain from excessive use of alcohol and have no contact with the victim.
Karazoupis is also required to live with his parents, who will act as third party custodians to be the eyes and ears of the court, at their Flemington residence.
"If I allow your son to go home today, you'll keep an eye and him and make sure he's following the conditions that are being set?" Goodman asked his parents who agreed to the terms. "If he violates any of these conditions … you need to let the court know."
Karazoupis only responded "Yes, your honor" two times to questions from the judge about his bail.
"But understand if there's a violation, you'll be back here," she warned him.
Karazoupis faces a maximum penalty of life in prison and a $250,000 fine for the sexual abuse charge.
As he was leaving the courthouse with Ballarotto and his family, Karazoupis briefly tried to put his shirt over his head to avoid being photographed.
Eventually giving up on concealing his face, Karazoupis made no comments, but briefly waived and smiled to the photographer as his picture was snapped.