Jerome A. Ballarotto
Attorney at Law
Former: Criminal Division Chief at the U.S. Attorney's Office Special Agent U.S. Secret Service Deputy Attorney General - NJ
Over 25 years experience in the conduct
and defense of investigations and prosecutions
by the United States Government
and its agencies.

If you have been charged with a crime or are being investigated by a government agency, realize that in the wake of fast-moving events, it is all too easy to react before getting the right advice. Often your earliest decision has the most impact.
Your first decision should always be to choose an experienced lawyer.
With legal colleagues and investigative resources worldwide, Mr. Ballarotto is fully prepared to bring his years of experience to your defense.
Featured Posts
Call us When:
• The IRS or the FBI appear in your office with a subpoena or search warrant and demands records.
• An employee informs your that he or she has been a victim of racial, ethnic, or other bias or harassment.
• Your company's hot new product shows up on your competitions trade show literature.
• Your child is arrested and has been charged with a serious crime.
• Your accountant is concerned with suspicious financial activity.
Call Ballarotto Law today!
Trenton, NJ (609) 581-8555
Key West, FL (305) 296-2270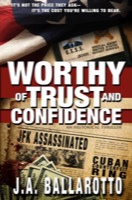 Worthy of Trust & Confidence Chosen by CBSNY as a Best of NY Summer Beach Read.
Featured